The Chinese government's alleged actions in Xinjiang have violated every single provision in the United Nations' Genocide Convention, according to an independent report by more than 50 global experts in human rights, war crimes and international law.

The report, released Tuesday by the Newlines Institute for Strategy and Policy think tank in Washington DC, claimed the Chinese government 'bears state responsibility for an ongoing genocide against the Uyghur in breach of the (UN) Genocide Convention.'

It is the first time a non-governmental organization has undertaken an independent legal analysis of the accusations of genocide in Xinjiang, including what responsibility Beijing may bear for the alleged crimes. …

Up to 2 million Uyghurs and other Muslim minorities are believed to have been placed in a sprawling network of detention centers across the region, according to the US State Department, where former detainees allege they were subjected to indoctrination, sexually abused and even forcibly sterilized. China denies allegations of human rights abuses, saying the centers are necessary to prevent religious extremism and terrorism.

(CNN, March 9, 2021)
No Sh*t!

These must be the same global experts who waited until the Hutus massacred hundreds of thousands of Tutsis in Rwanda to declare that a genocide; or until Janjaweed Arab militias massacred hundreds of thousands of ethnic Africans in Darfur to declare that a genocide. Or perhaps they're the same ones who issued a non-binding order to the military junta to take all measures to prevent genocide against the Rohingya Muslims in Myanmar, which is rather like the police watching a person commit murder and, instead of intervening to prevent it, merely issuing a citation for the perpetrator to try to stop.
Meanwhile, some of us have been trying for nearly a decade to get the international community to sanction China for its genocidal treatment of Uyghurs. For example, I alluded to their struggle for basic human rights in the context of Catalonia's fight for independence in "Catalonia: Spain's Kosovo Problem," October 1, 2012.
But here is how I framed China's presumed guilt just last year in a Covid-related commentary on February 18:
Practice from quarantining millions of Uyghur Muslims for years in religious-cleansing camps means that they are doing so in this case with Nazi-like efficiency.
So here's to this belated, official declaration. But, like the Tutsis in Rwanda, ethnic Africans in Darfur, and Rohingyas in Myanmar, I'm sure the Uyghurs in China just want to know what the hell the international community is going to do to stop this genocide China is actively executing against them.
That, especially given this solemn "never-again" pledge by former Secretary-General Kofi Annan, which he made in UN Press Release SG/SM/7263 AFR/196, 16 December 1999:
_________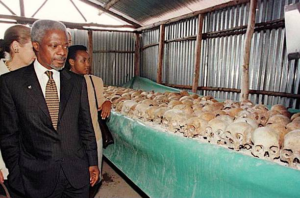 In 1994, the whole international community — the United Nations and its Members States — failed to honour that obligation. Approximately 800,000 Rwandans were slaughtered by their fellow countrymen and women, for no other reason than that they belonged to a particular ethnic group. That is genocide in its purest and most evil form.
All of us must bitterly regret that we did not do more to prevent it.
On behalf of the United Nations, I acknowledge this failure and express my deep remorse. …
Of all my aims as Secretary-General, there is none to which I feel more deeply committed than that of enabling the United Nations never again to fail in protecting a civilian population from genocide or mass slaughter.
_________
Not to mention this even more compelling and reassuring "never-again" pledge by former US president Bill Clinton, which he made during an address to survivors of the Rwandan genocide in Kigali on March 25, 1998:
_________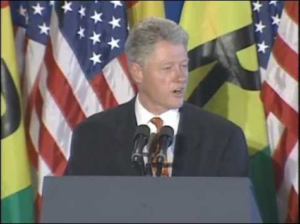 The international community, together with nations in Africa, must bear its share of responsibility for this tragedy, as well. We did not act quickly enough after the killing began. We should not have allowed the refugee camps to become safe haven for the killers. We did not immediately call these crimes by their rightful name: genocide. …
We owe to those who died and to those who survived who loved them, our every effort to increase our vigilance and strengthen our stand against those who would commit such atrocities in the future here or elsewhere.
Indeed, we owe to all the peoples of the world who are at risk because each bloodletting hastens the next as the value of human life is degraded and violence becomes tolerated, the unimaginable becomes more conceivable. …
To that end, I am directing my administration to improve, with the international community, our system for identifying and spotlighting nations in danger of genocidal violence, so that we can assure worldwide awareness of impending threats.
We have seen, too, and I want to say again, that genocide can occur anywhere. It is not an African phenomenon and must never be viewed as such. We have seen it in industrialized Europe We have seen it in Asia We must have global vigilance. And never again must we be shy in the face of the evidence.
_________
And so the Uyghurs are just the latest to suffer the genocidal consequences of hollow words by hollow men.
Again, the international community seems constituted to stand by while relatively poor and weak nations perpetrate genocide. This is why Hell will freeze over before it intervenes to even try to stop China from doing so. After all, China is arguably the richest and second most powerful nation in the world.

And, even more than Putin's Russia, Xi's China has just cause to believe that it can act with impunity – not just within its borders but throughout its de-facto sphere of influence. Google, Apple, Facebook, and Microsoft will all attest to that.
In fact, America is so captive to commercial interests in rogue nations, President Biden is even afraid to punish Crown Prince MbS of Saudi Arabia – who ordered thugs to murder Washington Post reporter Jamal Khashoggi (and then use a bone saw to dispose his body). Not to mention the pass those interests forced Presidents Obama, Trump, and Biden to give MbS for the crimes against humanity he perpetrated (and is still perpetrating) in Yemen. #YemenCantWait!
Which means all I can do is … protest in solidarity with the Uyghurs.
Related commentaries:
Catalonia… Rohingya… Khashoggi… Yemen…