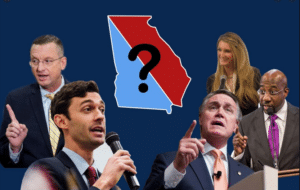 As election results for the US Senate stand, Republicans have 50 seats, Democrats 46, and Independents (who invariably vote with Democrats), 2. This is why Democrats are banking on winning the two runoff elections in Georgia.
Control of the Senate is likely to come down to the Jan. 5 Georgia runoff, when voters could be asked to decide whether both Republican Sens. David Perdue and Kelly Loeffler should continue to serve in the upper chamber.

Loeffler will face a challenge from Democrat Raphael Warnock after the two emerged from the crowded jungle primary. Perdue's race against Democrat Jon Ossoff is still rated 'too close to call.'

(NBC News, November 9, 2020)
A 50/50 Senate would not only give Democrats control but also redound to President Biden's legislative favor. This, because Vice President Harris would be able to cast any tie-breaking vote.
Unfortunately, tribalism masquerades as party loyalty these days. Therefore, everyone fully expects that, if Republicans win just one of those two seats, they will attempt to frustrate or obstruct every legislative initiative Biden proposes. Because, just as they did with President Obama, they will deem it their sole mission not to legislate for the general welfare, but to make Biden a one-term president.
This is why, instead of banking on those two runoffs, it behooves Biden to think outside the box to give himself the best possible chance to have a Democratic-controlled Senate.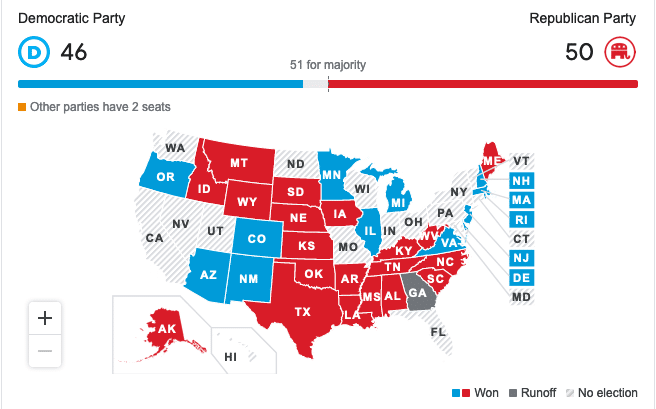 In this regard, he should task his newly appointed chief of staff, Ron Klain, to make secret, back-channel overtures to select Republican senators of states with Democratic governors. The aim is to offer them either a cabinet position or plum ambassadorial assignment that would tempt even the most rabid Trumpster.
Truth be told, though, these senators would probably welcome any offer as a political life raft. This, to jump off the batshit-crazy ship that is the Republican Party sinking into a black hole of President Trump's devices.
There are at least five of them in four states (Kansas, Louisiana, Montana, and North Carolina) who fit the bill. No appointment or assignment is too "sacred" to barter for guaranteed control of the Senate.
Once two of those Republicans bite, the Democratic governors of their respective states will then have the authority to appoint Democratic senators to replace them. In which case, no matter what happens down in Georgia, Biden will have a Congress wholly controlled by Democrats to help implement his progressive agenda.
Checkmate! You've not only wrested control of the Senate from Republicans but fulfilled your promise to have a government of national unity that "looks like America." How's that for killing two birds with one stone…?
So, just do it!
Note: If you are a Republican senator of a state with a Democratic governor, don't be afraid to initiate this political bartering. This, especially if you are one of the conscience-stricken dozens who truly regret the racist and unpatriotic way Senate Majority Leader Mitch McConnell sabotaged Obama's presidency. You cannot make amends for your party's acts of racism, but you can for its lack of patriotism.
Endnote: The nerve of Fox News refusing to propagate his gaslighting about a rigged election provoked Trump to threaten to launch his own MAGA TV station. However, beyond controlling the Senate in the near term, nothing would redound more to the benefit of Democrats. And it would be thus even if this notorious blusterer just ends up co-opting OAN or Newsmax to replace Fox News as the propaganda arm of his political cult. Because, either way, the result would be the cannibalizing of the Republican Party – the likes of which not seen since the ordination of gay bishops split the Episcopal Church asunder.
Related commentaries:
Trump vs Biden…  making Obama one-term president…
*  This commentary was originally published yesterday, Thursday, at 7:07 p.m.