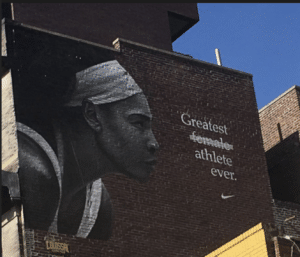 Serena Williams won her 23rd grand slam title in January 2017. Back then, anyone who knows anything about women's tennis would have bet their life savings she would've won at least another two grand slams by now. This, to surpass Margaret Court's record of 24 and seal her legacy as the unconditional GOAT.
That she hasn't is not quite as shocking as Tiger's failure to surpass Jack Nicklaus's record of 18 major golf championships. But it's pretty damn close.
Serena Williams retired from her first-round match at Wimbledon on Tuesday because of an injury.

Williams, a seven-time Wimbledon singles champion, started her match against Aliaksandra Sasnovich of Belarus with her right thigh taped, just as she had taped it during the French Open earlier this month in Paris. …

Williams has had increasing trouble with injuries since her comeback. She withdrew during the French Open in 2018 and 2020. At the 2019 Australian Open, she injured her left ankle during her quarterfinal loss to Karolina Pliskova but completed the match.

(The New York Times, June 29, 2021)

Truth be told, Serena seems fated to such disappointments. More to the point, if she keeps suffering them at grand slams, I fear people will soon forget what a great player she was and only remember the pitiful way she ended her career. I mean, it's been nearly 5 years of "failure" already.
Here, for example, is what I wrote about this very tournament two years ago in "Wimbledon: Serena Becoming Forever Lady-in-Waiting…for GS 24," July 13, 2019:
________
Serena Williams is the undisputed GOAT in female tennis. And, even in relative dotage at 37, she still seems capable of padding her record of 23 Grand Slam titles. But I fear stroking her way through all rounds only to come up dry in finals is becoming her destiny.
Sure enough, she not only squandered a third opportunity today, but looked every bit her age in doing so.
________
This is why I admire Steffi Graf so much. She retired in 1999 at the relatively young age of 30. She was clearly still on top of her game, but an injury made clear the writing on the wall. And so she retired with grace.
Alas, it's too late for Serena (or her sister Venus) to do that. But, given the rebuke I got from my old college roommate for making this observation, I feel obliged to clarify.
No one is a bigger fan, well, with the notable exception of said college roommate. And  I am not questioning Serena's entitlement to retire on her own terms.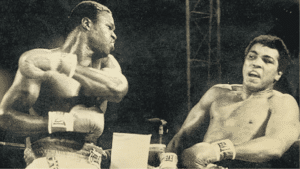 Just as I said to him, however, I am merely observing how painful it is to watch her continually come up short. This, especially knowing how badly she wants that 24th Grand Slam.
My abiding feeling is one of despair. And it's the kind I haven't felt since I watched Larry Holmes literally motioning the referee to stop their fight in 1980 so he wouldn't have to continue beating up an old Muhammad Ali – who should have retired years before.
We know how Ali ended up. So, continuing the analogy, let's hope Serena retires before recurring injuries prevent her not just from surpassing Court but from being able to play home court matches with her daughter.
Related commentaries:
Tiger Woods…  Wimbledon…