Bearing in mind that what is past is prologue, here is how I ended "G20: Trump Clueless, Friendless, and Feckless (and Those Friggin' Trump Kids!)," July 12, 2017:
____________________
I'm mindful that criticizing Trump is becoming as sadistic and futile as flogging a dead mule. Therefore, I shall end where I began – with the opening line of the aforementioned ABC News Australia report, which might prove its most poignant and prescient:
The G20 became the G19 as it ended.
To fully appreciate its import, it might be helpful to know that Obama marshalled other world leaders in 2014 to kick Putin's Russia out of the even more exclusive G8. The G8 became the G7 – again. This was their initial response to Russia's annexation of Crimea. But Russia has been a sanctioned pariah state ever since.
Given this, the irony cannot be lost even on Trump that he is willfully doing to America what Obama did to Russia. In one of their presidential debates, Hillary called Trump a Putin puppet. He has been acting like one ever since.
____________________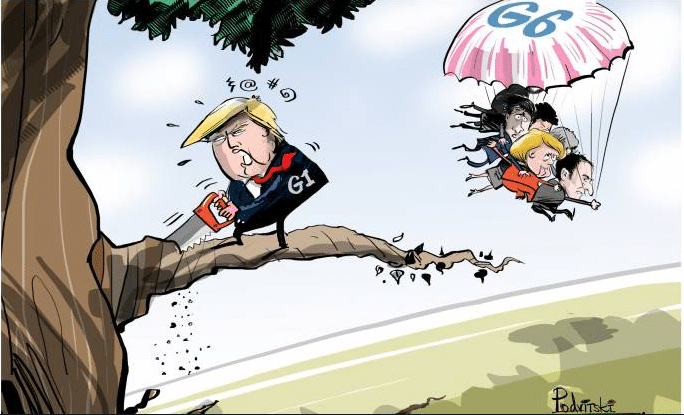 Sure enough, Trump has telegraphed his intent to make readmitting Putin's Russia the top item on the agenda for this weekend's G7 meeting. This, despite the fact that, far from making amends for Crimea, Russia has since given the G7 nations even greater cause to banish it as a pariah state.
Most notably, it has poisoned Russian dissidents in Britain and launched cyberattacks to undermine democratic elections everywhere. Which is why Trump will spend much of this meeting out on a limb all by himself.
Incidentally, this might explain reports that he was floating excuses to blow off this G7 meeting; you know, the way he famously blew off the state visit to Denmark, which was long-scheduled to follow it.
In any event, the other G7 leaders effectively ignored him at the last meeting. Trump has since given them just cause to treat him like a skunk at this one.
And so the G7 will become the G6. As such it will provide further evidence that all Trump is accomplishing with his America-First policies is alienating allies and empowering enemies.
Related commentaries:
G20: Trump clueless…    G20 Argentina…
G7…   G20 much ado about nothing…
Skripal poisoning…   Russian election meddling…