I have written many commentaries decrying the institutionalized criminality of Catholic priests raping little boys.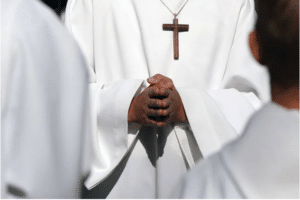 I cite in this regard such commentaries as "Pope Accused of Harboring Pedophile Priest," March 16, 2010, "Justice Begins for Victims of Child Sexual Abuse in the Catholic Church…," June 23, 2012, "Sexual Abuse Allegations Against Pope's Adviser Damns Papacy," June 29, 2017, and "Confirmation! 'Pedophile Priests' Is Redundant," August 15, 2018.
And two years ago, when reports revealed that priests were raping nuns almost as often as they were little boys, I had just cause to wonder, cynically, "Priests Who Rape Boys More Forgivable than Those Who Rape Nuns…?" February 7, 2019.
But it's arguable that, since time immemorial, nuns have served as little more than proverbial Stepford wives in the Catholic Church. As such, they've been indoctrinated with the most insidious form of Stockholm Syndrome. Because this manifests as religious catechism that requires them to sacrifice their own souls, to say nothing of their bodies, in misguided service to Bishops and parish priests.
Of course, it is a well-documented phenomenon that people so systematically abused invariably become abusers themselves. That's why, even though shocking, it's hardly surprising that nuns would sacrifice the bodies of children too.
The following excerpt from a report in the February 2 edition of The Daily Beast exposed this latest layer in the onion of depravity that is the Holy Roman Catholic Church:
_________
A jarring report outlining decades of rampant child sex abuse at the hands of greedy nuns and perverted priests in the Archdiocese of Cologne, Germany, paints a troubling picture of systematic abuse in the German church.
The report is the byproduct of a lawsuit alleging that orphaned boys living in the boarding houses of the Order of the Sisters of the Divine Redeemer were sold or loaned for weeks at a time to predatory priests and businessmen in a sick rape trade. The men involved in the lawsuit say as boys they were denied being adopted out or sent to foster families because selling them for rape lined the sisters' coffers for their 'convent of horrors.' Some of the boys were then groomed to be sex slaves to perverts, the report claims.
The alleged abuse went on for years, with one of the males claiming the nuns even frequently visited their college dorms after they had left the convent. He said the nuns often drugged him and delivered him to predators' apartments. The Order of Sisters of the Divine Redeemer did not answer multiple requests for comment about the allegations.
__________
Meanwhile, the insidious nature of this abuse raises the question:
Are these "orphaned boys" the product of priests who raped nuns, which I wrote about in the February 2019 commentary cited above?
In other words, priest A rapes nun B who gives birth to boy C who is then groomed by nun D to be raped by priest E … if not priest A (adding incest to make it truly diabolical). Now, if you'll forgive this mixed metaphor, multiply that a thousand times, and I suspect we would still see only the tip of the iceberg of depravity lurking beneath the surface in the Catholic Church.
But to comment any further risks the proverbial beating a dead horse. Therefore, I shall end with a benediction that I think explains this and every other institutional sin that has ever been committed in the name of God:
In addition to these nuns and priests, it is self-evident that many Christian leaders – from evangelical pastors who enabled Donald Trump's high crimes and misdemeanors to prosperity ministers who fleece their flock – do not believe God exists. Because, if they did, they would never even think of doing the "sinful" things they do, let alone with the presumed impunity with which they clearly do them.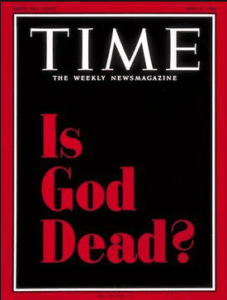 In The Gay Science (1882) Friedrich Nietzsche famously reasoned that
God is dead.
He argued that Christians were committing such ungodly sins, "the belief in the Christian God has become unbelievable." In fact, Nietzsche's intellectual indignation was such that he insisted only a "madman" could believe in the existence of God.
Of course, when you consider all the crimes against humanity that have been committed throughout the ages, not just in the name of God but by his most trusted servants, Nietzsche makes sense, no?
Related commentaries:
pope accused…  pope's advisor… pedophile priests…  priest rape boys…