As usual, I feel obliged to begin with my annual lament, which I first presented over a decade ago in "My Review of the 2008 Oscars," February 25, 2008: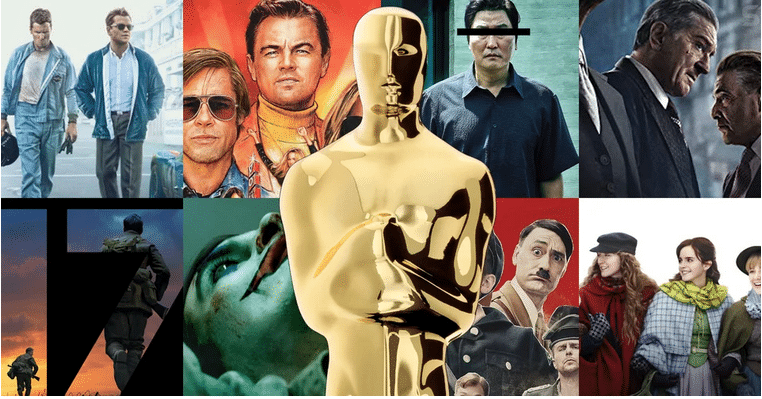 ____________________
With all due respect to critics and members of the Academy of Motion Picture Arts and Sciences (the Academy), how much a film makes, not whether it wins an Oscar, is the generally recognized measure of its success. This, especially considering that winning an Oscar is more the result of crass political campaigning than any assessment of artistic achievement.
Indeed, it might surprise, if not disillusion, many of you to learn that studios covet the Oscar for Best Picture primarily because — as Sumner Redstone, the owner of Paramount, conceded in a moment of extraordinary candor — it guarantees millions more in box office receipts. …
I'm on record stating how much I dislike the annual Academy Awards show (the Oscars). Because I have little regard for preening, pampered poseurs showing off their borrowed frocks and bling-bling as a prelude to a nearly four-hour show — only six minutes of which anyone really cares about (i.e., the time it takes to present Oscars for actor and actress in a leading role, actor and actress in a supporting role, best director, and best picture).
And, remarkably enough, the host comedians do little to relieve the boredom of the interludes between these carefully spread-out moments.
____________________
Apropos of host comedians, Kevin Hart forced the Oscars to go host-free last year after old homophobic tweets came back to haunt him and the Academy. The result was a show whose length was finally matched by its unrelenting tedium. Yet, for some inexplicable reason, I gather the Academy has decided to make going host-free a trend.
That said, from the Golden Globes to the BAFTAs, the entertainment industry hands out so many movie awards these days, the Oscars are becoming more of an afterthought than a crowning achievement. Not to mention the sapping of suspense this backslapping season now entails; that is, given the increasingly groundhog-day look and sound of the winners.
Except that the highlight of this year's show is bound to be the dark shadow of black actors who have been excluded. But I have already said all I care to about this all too predictable plot twist in "Ghosts of Nightmares Past: #OscarsSoWhite…Again," January 14, 2020.
So, without further ado, here are my picks. As usual, I limit them to the six and only categories most people care about, with all due respect to others like Makeup and Hairstyling …
Actor in a Supporting Role
Brad Pitt in Once Upon a Time … in Hollywood: Because, well, I suppose it's about time. In fact, he's my sentimental favorite, and it has nothing to do with surviving Angie.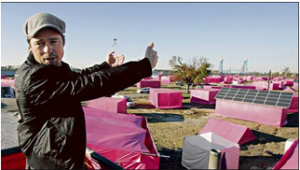 No, seriously, it has everything to do with his efforts to help black folks ravaged by Hurricane Katrina rebuild their lives. There have been some notorious problems associated with that but nobody can doubt his heart was and remains in the right place. Indeed, I duly commented on how his "Make It Right" efforts went so wrong in this respect in "'Brangelina' Divorce: Who or What Will Angie Do Next ?" September 23, 2016.
Interestingly enough, my sentimentality stems also from the way he has shown his good heart even in Hollywood, having produced 12 Years a Slave for which he won an Oscar.
Actress in a Supporting Role
Margot Robbie in Bombshell: Because, even though she looks like a latter-day Marilyn Monroe, she acts like a latter-day Elizabeth Taylor. And, notwithstanding snide remarks by sexist jesters like Jim Carrey or unwittingly eponymous titles like that of this film, the Academy should accord her the professional respect she deserves.
I mean, think of the range she displayed in just one year from I, Tonya to Mary Queen of Scots!
Actress in a Leading Role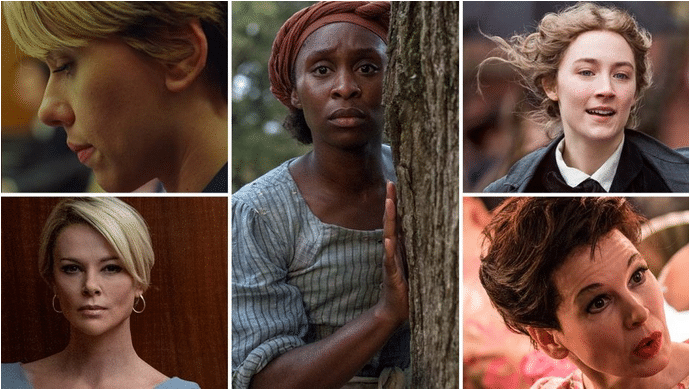 Cynthia Erivo in Harriet: Because she's the only black nominee in the acting categories. Therefore, it might dawn on the still vast majority of old white men who compose the Academy that this is their only opportunity to cast a token vote for diversity this year. It might even occur to some of them that this is a chance to reinforce their fashionable support for Harriet Tubman to grace the $20 bill.
Except that there's a frying-pan-to-fire spectacle about her appearance at these awards. Because this British actress made quite a show of turning down an invitation to present at her country's version of the Oscars, the aforementioned BAFTAs.
She preferred not to endorse an event in which there were no non-white faces nominated in the acting categories.

'They were getting all these other black actors to come on as presenters. Well, I'm not an accessory to make Bafta look good.'

(The Daily Mail, February 7, 2020)
So, er, here's to all the black actors presenting to make her and Oscar look good…? Meanwhile, am I the only one who sees the encouraging, even if somewhat holier-than-thou, irony in Prince Harry's brother William taking to the BAFTA stage last weekend to upbraid its members for the lack of diversity in British cinema? #BaftasSoWhite! Duh.

Joaquin Phoenix in Joker: Because he did such a good job of imitating Heath Ledger in this role, Academy members thought this would be a good way to vindicate the posthumous Oscar they gave Ledger for The Dark Knight (2009).
Or maybe they like the way Joaquin has assumed the mantle of his dead brother River so convincingly. Or maybe his vegan-centered environmentalism is guilting them into giving him awards; you know, the way Greta Thunberg's carbon-centered environmentalism is guilting media members into giving her awards (e.g., Time Person of the Year).
Directing
Sam Mendes for 1917: Because this is bound to be one of those rare occasions where Academy members have the good sense to present this award to the director of the film they select for the Best Picture Oscar.
Mendes is that popular, not least for his turn as director of the most popular of Daniel Craig's Bond films, Spectre. Arguably, if any director is heir to Steven Spielberg, it is he, Mendes.
1917: Because the Academy has a curious thing for war movies. They include two of my favorites of all time, The Bridge on the River Kwai (1957) and The English Patient (1996). It also helps that 1917 is that rare favorite that is also a bona-fide box office hit.
Honorable mention: Once Upon a Time … in Hollywood: Because nobody who sees it could fail to appreciate its prescient commentary on our dystopian times in America today. Roman Polanski (e.g., Chinatown) has nothing on Quintin Tarantino!
Stay tuned …
Related commentaries:
My review 2008…
OscarSoWhite…
Brangelina…
Greta…
12 years a Slave…