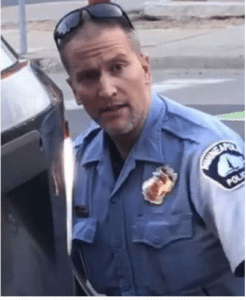 Have you been keeping track of the prosecutors in the trial of Derek Chauvin, the former Minneapolis cop who kneed George Floyd to death so infamously? You'd be forgiven the impression that they're trying to emulate the "Dream Team" who defended O.J. Simpson … so infamously.
I will stipulate that each prosecutor is performing well enough to help seal Chauvin's conviction. But I am hard-pressed to find a Johnny Cochran or F. Lee Bailey among them.
Thank God each prosecution witness has been so compelling. I found the following four particularly so:
Darnella Frazier, the teenager whose video of the killing is Exhibit A in this trial, for saying she felt guilty for not physically intervening to save Floyd from Chauvin – whose job, she noted, was to protect him. (By the way, am I the only one who found it oxymoronic that the judge blocked her face when she appeared in court, but didn't when the prosecutor aired videos from the scene during her testimony – complete with the prosecutor asking her to point to herself with a digital pen for all the world to see?)
Charles McMillian, the 61-year-old passerby, for saying, after videos from that day caused him to break down in tears, that he pleaded in vain for Floyd to comply before Chauvin got that knee on his neck.
Donald Williams, the MMA fighter, for saying he called the police on the police because he was convinced he was witnessing Chauvin commit murder in broad daylight.
Medaria Arradondo, the chief of police who wasted no time firing Chauvin and his three accomplices, for saying Chauvin absolutely violated department rules, ethics, values, and neck-restraint policy in arresting Floyd. And that he showed a callous disregard for the sanctity of life.
The O.J. Simpson trial showed why it is never wise to predict the outcome of a murder trial, especially one that is racially charged. But no officer has ever delivered that idiomatic final nail in the coffin of a fellow officer at trial as convincingly and authoritatively as Chief Arradondo did in Chauvin's yesterday. I feel confident the jury's verdict will vindicate my assertion.

Yet I think McMillian's testimony will serve the greatest public good; that is, if people were not too overcome by his emotion to hear and fully appreciate his words. And it just so happens that I need only share an excerpt from "Killing of Michael Brown: as Much About Resisting Arrest as Police Brutality (Only Against Black Men?)," August 12, 2014, to explain why I empathized so much with his grief:
_________
We've all seen far too many incidents of people resisting arrest – even wresting away a policeman's gun and killing him – just because they feared being questioned or arrested … even for something as simple as petty theft. …
Those rules, which form the acronym 'Dodge' (as in bullets), are:
Do not run.
Comply with commands. (Wait for the police to explain why you're being stopped before politely posing any objections, concerns, or questions you may have.)
Do not resist being frisked or handcuffed.
Get the encounter on video. (Wait for the police to approach and make clear that you'd like to reach for your phone; i.e., avoid any sudden move that might make some trigger-happy cop's day.)
End the encounter civilly. (Not only might this spare another black man a racial-profiling stop (e.g., for DWB), it might make that cop less trigger happy during his next encounter with the next black man.)
_________
Besides that, I have repeatedly chastised Black activists who seem more interested in making martyrs of Black men than in saving their lives. More to the point, I have decried the way they have not only acculturated young Black men to either run or resist arrest (pursuant to some misguided "black" badge of courage), but also turned the PR spectacle that compels financial settlements in these cases into a cottage industry.
Here, for example, is how I vented my dismay in "Re Stephon Clark and Alton Sterling — Police Killing Blacks (Sometimes) Justified," March 27, 2018:
________
I have nothing but contempt for lawyers and activists who rush in to make dubious martyrs of them. This, instead of admonishing other black men to do the right things to avoid ending up like them. Nobody wanted Clark dead. But I'm sure none of the (Black) people whose cars he vandalized and burglarized considers him a martyr for any worthy cause.
Not to mention that, for those lawyers and activists, justice is more about getting their cut from civil settlements than getting any cop thrown in jail. And that's not me just being my cynical self:
Al Sharpton is all about the Benjamins, a daughter of police chokehold victim Eric Garner claims in a bombshell videotape.

(New York Post, February 24, 2015)
_________
With that, dear readers, I rest my case.
Related commentaries:
George Floyd…