I know, given all that has already been told, another tell-all about Donald Trump probably teases as much as the prospect of watching white paint dry.
That's why I'm only commenting to urge you to boycott one, and give the other a special look because of the author's unique relationship to him.
John Bolton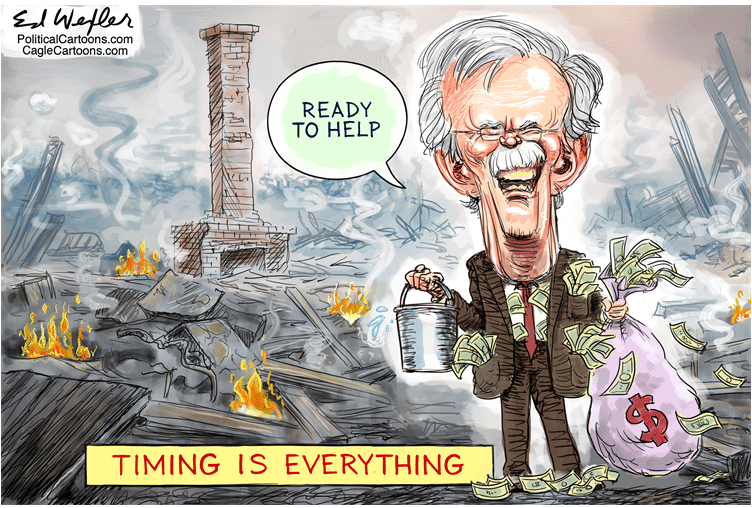 Truth be told, a tweet could explain my call for this boycott – as Trump more than anyone should appreciate. As it happens, no less a person than lead House impeachment manager Rep. Adam Schiff (D-CA) posted one:
Bolton's staff were asked to testify before the House to Trump's abuses, and did. They had a lot to lose and showed real courage. When Bolton was asked, he refused, and said he'd sue if subpoenaed. Instead, he saved it for a book. Bolton may be an author, but he's no patriot.

— Adam Schiff (@RepAdamSchiff) June 17, 2020
Of course, Trump's efforts to block publication of this book might prove more riveting than anything in it. Even so, like so much of his presidency, those efforts have amounted to much ado about nothing.
A federal judge has denied the Trump administration's attempt to block the upcoming publication of a book by former national security adviser John Bolton. …

Several news outlets including CNN obtained copies of the book this week and published articles describing and quoting Bolton's writing.

(CNN, June 20, 2020)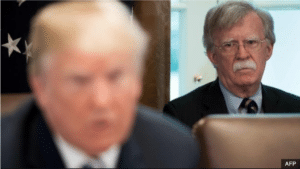 That said, I called for this boycott on Friday because Bolton is a craven hypocrite. Nothing betrays this quite like Bolton accusing Trump of using the presidency to enrich himself. But you only had to read the title to one of my recent commentaries to know this, namely "Trump Forgoes Salary Only to Enrich Himself in Other Ways a Thousandfold," February 26, 2020.
More to the point, though, Bolton decided to ape Trump by enriching himself too. Only that explains him writing this book instead of testifying before Congress. That's a proverbial case of pot calling kettle black! (Or is that too politically incorrect these days…? How about birds of a feather…?)
Anyway, the last thing any American should want is for him to pocket a dime from the sale of this book. Therefore, it occurred to me that media influencers could spare you having to buy it by using their advance copies to publish all of his so-called bombshell allegations before the book's official release tomorrow.
As a lawyer, I have my limits. But you'll appreciate why the following fills my heart with joy:
A PDF of The Room Where It Happened has turned up on the internet, offering a free, pirated edition of the former national security adviser's scathing takedown of President Donald Trump, who has alleged that the book contains classified material that never should have been released.

'We are working assiduously to take down these clearly illegal instances of copyright infringement,' Simon & Schuster spokesperson Adam Rothberg said Sunday.

(The Associated Press, June 21, 2020)
What I can do is share the following, courtesy of the June 20 edition of the BBC, which appeared under the banner headline "John Bolton: Ten Biggest claims in his Donald Trump book":
Trump wanted help from China to win re-election…
… and said building internment camps was the 'right thing to do'
Trump offered 'personal favours to dictators'
The Democrats should have gone further with impeachment efforts
Trump suggested he wanted to serve more than two terms
Trump didn't know the UK was a nuclear power…
… or if Finland was part of Russia
He was very close to actually quitting Nato
Invading Venezuela would be 'cool'
Even allies ridiculed him

Beyond this, I've read enough excerpts and heard enough reports to know that Bolton's book includes nothing about Trump that I did not presage in too many commentaries to enumerate. But, for the sake of symmetry, here are the titles to just 10 of them that not only preempted his book but tell far more than his tell-all:
"Trump Congratulates China for Raping US," November 9, 2017
"Trump Makes Way in Syria for Erdogan to Displace (or Massacre) the Kurds. Maybe…," October 8, 2019
"Republicans Whining About Partisan Impeachment of Trump Is Orwellian Claptrap," January 31, 2020
"Trump's Lawyer Says this Wannabe Dictator IS Above the Law," December 5, 2017
"(White) Evangelicals Supporting Donald Trump like Israelites Worshipping Golden Calf," January 20, 2016
"Trump Abroad: Mooning NATO, Droning Britain, Spooning Putin," July 12, 2018
"Donald Trump's 'Bay of Pigs' in Venezuela…?" May 6, 2020
"NATO 'Summit': They Never Laughed at US, President Trump. But They Are Laughing at You!" December 5, 2019
"WTF! President-elect Donald J. Trump?! America. What. Have. You. Done?" November 9, 2016
 "America's First Family: Rich Getting Richer," June 22, 2018
Ironically, the most interesting thing about this cat fight is not in anything Bolton wrote but in how he intends to vote:
In an interview with ABC's Martha Raddatz, broadcast Sunday night, Bolton said, 'We can get over one term — I have absolute confidence, even if it's not the miracle of a conservative Republican being elected in November. Two terms, I'm more troubled about.' But he made clear he would not vote for presumptive Democratic presidential nominee Joe Biden.

(Axios, January 21, 2020)
This only adds fodder to my contention that Trump and Bolton are birds of a feather. Because it proves that he's not only every bit as greedy but arguably almost as ignorant too. I mean how can he fear a second Trump term triggering the end of America as we know it, and not take pride in voting to prevent that.
Doesn't this remind you of the idiots who voted for Ralph Nader in 2000 and then bitched about the Bush presidency for the next eight years…? Frankly, writing someone in who is not on the ballot – as Bolton claims he intends to do – smacks of belief in faith healing.  Friggin' idiot!
Folks, there are only two choices in November: Trump or Biden.
Therefore, if you choose to stay home or write someone in, you're Team Trump – whether you're too stupid to realize it or not, in which case, f*ck you!
Mary Trump
Upon reflection, what I wrote about her forthcoming book on Thursday might be the best teaser possible.
His niece has written a family exposé that promises to make Mommie Dearest look like a lullaby. The book, Too Much and Never Enough: How My Family Created the World's Most Dangerous Man, by Mary L. Trump, is scheduled for release on July 28 – perfectly timed to spoil Trump's Republican National Convention. … Both books reportedly provide receipts for what Trump shows us every day, namely that he's an ignorant, backstabbing, craven, lying, self-centered shyster.
Of course, teasing readers until July 28 risks frustrating some too much. But here, admittedly from her biased publisher, Simon & Schuster, is why satisfaction is guaranteed:
__________
In this revelatory, authoritative portrait of Donald J. Trump and the toxic family that made him, Mary L. Trump, a trained clinical psychologist and Donald's only niece, shines a bright light on the dark history of their family in order to explain how her uncle became the man who now threatens the world's health, economic security, and social fabric. …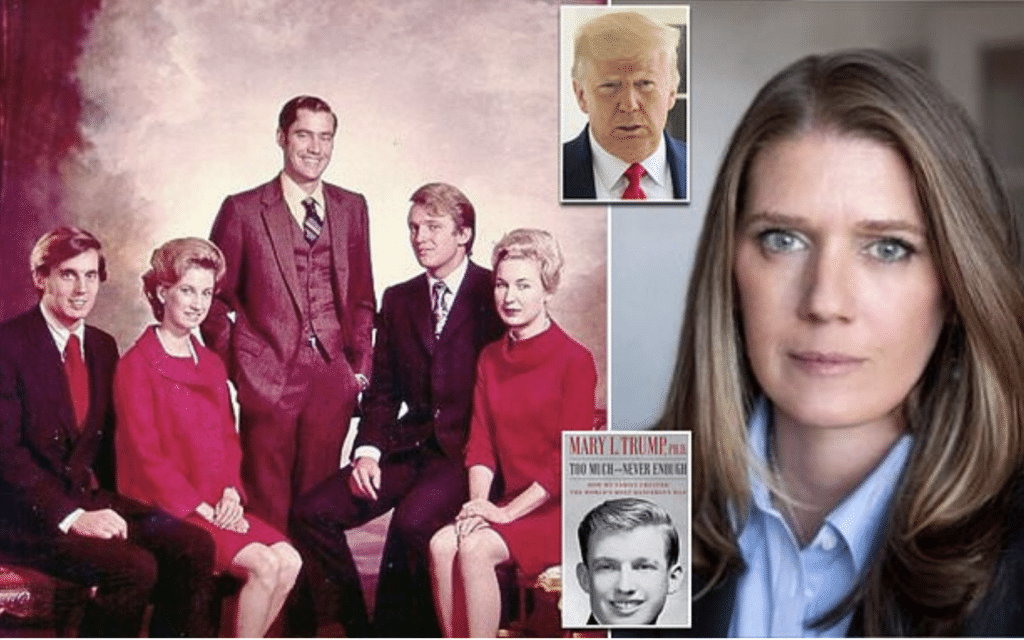 She explains how specific events and general family patterns created the damaged man who currently occupies the Oval Office, including the strange and harmful relationship between Fred Trump and his two oldest sons, Fred Jr. and Donald. …
She alone can recount this fascinating, unnerving saga, not just because of her insider's perspective but also because she is the only Trump willing to tell the truth about one of the world's most powerful and dysfunctional families.
__________
Enough said?
Related commentaries:
Two Trump tell-alls…   Trump forgoes salary…
Trump congratulates China…Erdogan… Impeachment…  wannabe dictator…
white evangelicals…  NATO… Venezuela… Allies laughing at Trump… WTF…  First family…