Leaders around the world are aping Donald Trump's dystopian presidency. For example:
Democratic leaders in Hungary, Poland, and Italy are adapting his neo-nationalist policies while others in the Philippines, Brazil, and India are parroting his demagogic and divisive rhetoric.
Dictatorial leaders everywhere are chanting his "fake news" mantra – not only to discredit any reporting on their abuses but also to squash freedom of the press.
Not to mention this trend, which his black-swan election triggered:
[H]istorical data suggests a link between heated rhetoric from top political leaders and ensuing reports of hate crimes, only adding to the fears of those who could be targeted.

[An analysis of FBI data] found that during August 2017, the month of the violent clash between white-supremacists and counter protesters in Charlottesville, Virginia — when Trump infamously said there were 'very fine people on both sides' — reported hate crimes nationally increased to 663 incidents, the second-highest tally in nearly a decade.

That was surpassed only by the month of November 2016 surrounding the rancorous presidential race won by Trump over Democrat Hillary Clinton, when reported hate crimes nationally soared to 758 incidents.

(The Associated Press, August 7, 2019)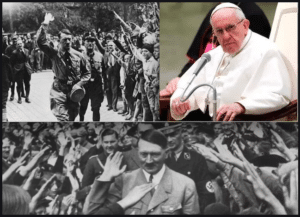 Therefore, it's hardly surprising that Pope Francis is voicing concerns about analogies between the zeitgeist of Trumpism today and that of Nazism in the early 1930s.
Pope Francis on Friday said he was 'concerned' about recent political rhetoric, cautioning against nationalism and saying that recent political speeches he's heard 'resemble those of Hitler in 1934.'

'I am concerned because we hear speeches that resemble those of Hitler in 1934,' he told Italian outlet La Stampa. 'Us first. We … We … These are frightening thoughts.'

(The Hill, August 10, 2019)
Except that I hope Francis will forgive me for wondering what took him so long to sound this authoritative alarm. Moreover, I am constrained to admonish him that focusing on Trump's neo-nationalism risks overlooking the far more foreboding threat Putin's neo-fascism poses.
Granted, these two deviant strains of leadership compliment more than compete with each other. What's more, Trump is too self-obsessed and ignorant to appreciate the fateful symmetries afoot.
Only this self-obsession and ignorance explain his antic bromance with enemies (like the leaders of Russia and North Korea) and his juvenile feuds with allies (like the leaders of Canada and Denmark). With respect to the latter, for example, Trump just sunk to a new low – even for him: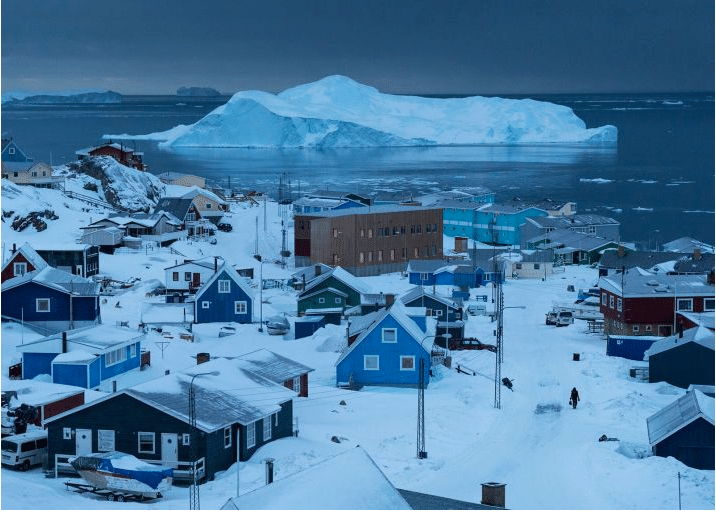 Danish Prime Minister Mette Frederiksen says she is 'annoyed' at Donald Trump's decision to cancel his visit after being told Greenland was not for sale. …

Mr Trump was scheduled to visit on 2 September at the invitation of Denmark's Queen Margrethe II. [Naturally, preparations were well underway.]

But last week, he suggested that his administration was interested in buying Greenland – an idea that Ms Frederiksen at the time described as 'absurd'.

(BBC, August 21, 2019)
No US president has ever displayed such petty, spiteful, and reckless leadership. Still, there's no denying that the Putin strain is far more confrontational and potentially apocalyptic. Indeed, here in part is how I sounded my own plaintive alarm in "Prince Charles Draws Analogies Between Trumpism and Nazism." February 8, 2017:
____________________
It's eminently newsworthy that this Prince of Wales is being hailed as a conscientious objector to Trumpism for saying this (on December 22, 2016, when he was the featured speaker on the BBC Radio 4 program):
We are now seeing the rise of many populist groups across the world that are increasingly aggressive to those who adhere to a minority faith. All of this has deeply disturbing echoes of the dark days of the 1930s. …

My parents' generation fought and died in a battle against intolerance, monstrous extremism and inhuman attempts to exterminate the Jewish population of Europe.
Mind you, some of us have been saying much the same for years. But I, for one, have always predicated commentaries in this regard on this far more compelling analogy: Putin is to Hitler as Trump is to Mussolini. After all, the aggression Vladimir Putin is executing over in Europe has far deeper 'echoes of the dark days of the 1930s' than the nationalist populism Donald Trump is propagating here in America.
As it happens, Charles has been saying this too. Here is how I hailed him for doing so in 'Russia and China Make kindred Bedfellows,' May 22, 2014:
_________
I've been forthright in pointing out foreboding analogies between what Hitler did in Europe during the late 1930s and what Putin is doing in Europe today – as I did in commentaries like "Putin as Hitler, Crimea as Sudetenland," February 26, 2014.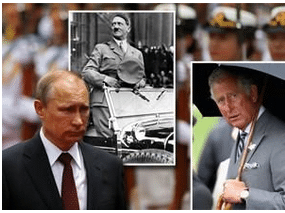 It is in this vein that I proffer the analogy between Putin signing this gas deal with China and Hitler signing the 1939 Non-Aggression Pact with Russia. Not least because, like Germany and Russia back then, Russia and China have common cause in collaborating to counter what they see as Western powers imposing their political values, while forging economic ties and military alliances, all over the world.
Prince Charles caused a diplomatic kerfuffle on Tuesday, during a state visit to Canada, when he too analogized Putin's actions in Crimea to Hitler's in Sudetenland. But reports focused far too much on Charles breaking protocol, which constrains royals from opining publicly on political matters. This, notwithstanding that his opinion in this case was shared in (what he thought was) a private conversation with an elderly polish refugee – whose family barely escaped Nazi occupation.
Instead, they should have stressed that his observation was as much an indictment of Putin's military aggression as it was a rebuke of European leaders for failing to stop him; that is, just as their predecessors failed to stop Hitler … before it was way too late.
_________
In any event, it's an indication of how viral Charles's Radio 4 message went that, on Monday, the UK parliament assumed the royal imprimatur it conferred to declare Trump persona non grata. Specifically, it decreed that he is unfit to address its hallowed Houses during his state visit later this year.
__________________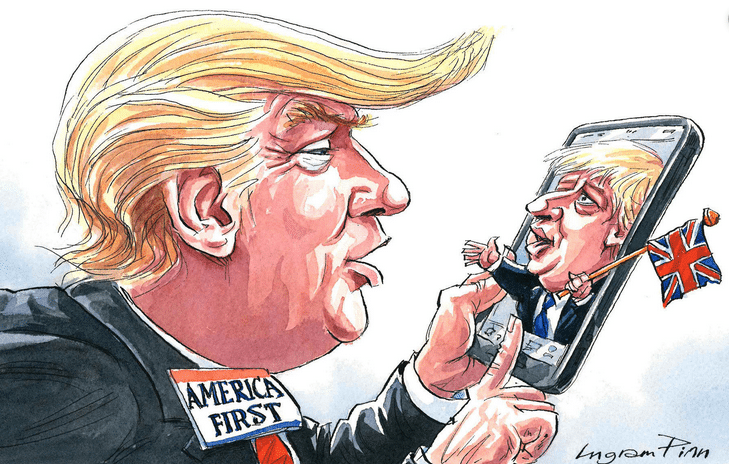 Fatefully, the UK has since elected Boris Johnson, a wannabe Trump, as prime minister. More to the point, it's arguable, that Putin has in Johnson his Chamberlainian appeaser.
Although the new prime minister has publicly mocked and criticized the Russian president, there are pervasive reports — never quite conclusively denied by the Foreign Office — that during Johnson's time as foreign secretary, direct oversight of MI6, the foreign intelligence service, was quietly moved out of his portfolio because of his Russian connections.

(Foreign Policy, July 24, 2019)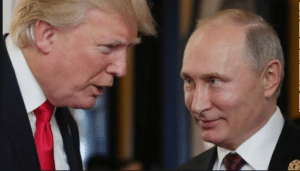 Indeed, it is noteworthy that Johnson hurls occasional rhetorical counterpunches at Putin to keep up appearances. But Trump never bothers; instead, he continually reinforces suspicions that Putin has in him his Manchurian president.
Whatever the case, the pope is right to voice concerns about the eerie analogies between Trumpism today and Nazism in the 1930s, which led inexorably to World War II.
I fear the Santayana admonition obtains: we have not learned from history and seem doomed to repeat it.
Related commentaries:
Charlottesville…
Prince Charles…
Boris Johnson…